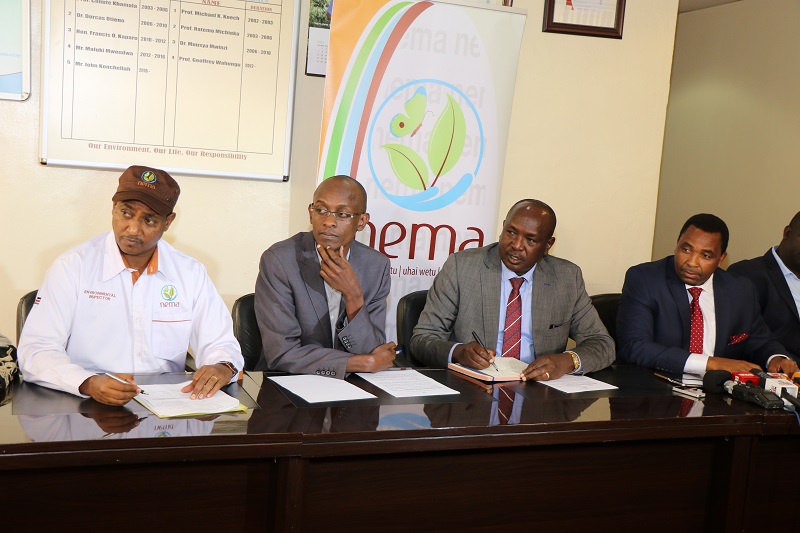 R_L _WRA Chairman, Joe Mutambo, Chairman NEMA, John Konchella, Board Member, Augustinoh Neto and Ag. Director General, Mamo B. Mamo during a media briefing at NEMA HQ
Every Kenyan has a right to a clean and healthy environment as enshrined under Article 42 of the Kenyan Constitution. As such, NEMA, as an agency charged with the duty of supervising and coordinating all matters related to the environment has been undertaking inspections in a bid to clean rivers across the country.
During the 100 day Rapid Results Initiative on Effluent Discharge License launched on 8th May 2019, the Authority has arrested 30 people, closed 48 facilities and issues 37 restoration orders in Nairobi County alone.
The RRI was meant to address issues of effluent discharge into the environment. Particularly, companies discharging untreated sewerage into the sewer line and into the environment have been the main culprits of this initiative as they are the main polluters of rivers and the environment specifically Nairobi River.
"Poor solid waste management, encroachment of riparian reserves by informal settlements, pollution of the rivers by effluent from the sewer lines, poor planning, insecurity and inaccessibility of the informal settlements and inadequate resources are some of the sources of rivers pollution in the country," NEMA Chairman, John Konchelllah.
Konchelllah remarked that NEMA has continually worked jointly with multi-agencies and the Nairobi Regeneration Programme in the identification of illegal discharges and marking of illegal structures which are major polluters of Nairobi River. On the same, the Authority has worked closely with County Governments. He impressed the County Governments to take an active role in controlling pollution of rivers across the country.
According to the Konchellah, canalization and erection of high walls along riparian reserve especially along the informal settlements. Furthermore, NEMA will continuously monitor and undertake regular research to generate scientific data to enhance her protection of rivers.
According to Ag. Director General, Mamo Boru, the Authority has identified 78 illegal structures where 25 structures have already demolished. Mamo adds that the Authority has also been creating awareness on the importance of preservation of our riparian reserves and the general environment to try and change the attitude of Kenyans towards the environment.
The Authority has also summoned Nairobi Water and Sewerage Company Managing Director for running a dysfunctional sewerage system within Nairobi where there are various illegal discharge points. More so, the company has the duty to ensure all Nairobians are connected to the sewer line to preserve the greater Nairobi River.
Also present during the media briefing was the Chairman, Water Resources Authority, Joe Mutambo who has warned heads of government institutions charged with the duty of protecting the environment. Mutambo particularly warned County governments who are charged with the duty of waste management as this is a major contributor to pollution of rivers throughout the country.