The Strategic Plan sets out NEMA's vision, mission, goals and objective for the period 2013-2018 to ensure achievement of positive outcomes for our environment. The Strategic Plan facilitates a focused approach in the implementation of the Environmental Management and Coordination Act (EMCA) enacted in 1999.The plan provides a road map for NEMA to achieve its mandate of ensuring a clean and health environment for all.
This strategic plan for the period 2013 - 2018 is the third corporate strategy aimed at propelling the Authority to greater heights in environmental management. As stated in the Vision Statement, the Authority is committed to attaining world class status in environmental management.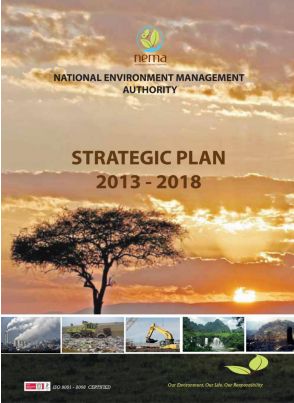 This strategic plan aims to align the Authority's operations to the Constitution of the Republic of Kenya and the Medium Term Plan II of the government's Vision 2030. More specifically, it is intended to provide strategic direction on the many emerging issues relating to the environment and sustainable development.
This strategic plan defines the Authority's vision, mission, core values and strategic direction for the next 5 years. Delivery of the strategic plan will be through 5 strategic objectives, being:

1. To coordinate stakeholders and lead agencies in order to create synergy in management of the environment;
2. To ensure compliance with environmental legislation and policies in order to maintain a clean, healthy and sustainable environment;
3. To strengthen institutional capacity for effective and efficient management of the environment;
4. To build and nurture strategic partnerships aimed at enhancing sustainable management of environment; and;
5. To enhance the use of communication as a tool to achieve the Authority's performance objectives.
Strategic Plan 2019-2014. Download