The World Environment Day (WED) was established in 1972 at the United Nations General Assembly held in Stockholm, Sweden. The day, which is celebrated each year on 5th of June, has continued to be an opportunity for educating the public on the importance of the environment, while appreciating the achievements made towards preservation and conservation of the environment by diverse stakeholders.
The celebrations are guided by the prevailing issues and circumstances around the planet that need the attention of policy makers and the general public to advocate for intervention measures towards reversing environmental degradation. World Environment Day has been proven to be a powerful platform to accelerate, amplify and engage people, communities and governments around the world to take action on critical environmental challenges facing the planet.
WED 2020 ONLINE COMPETITION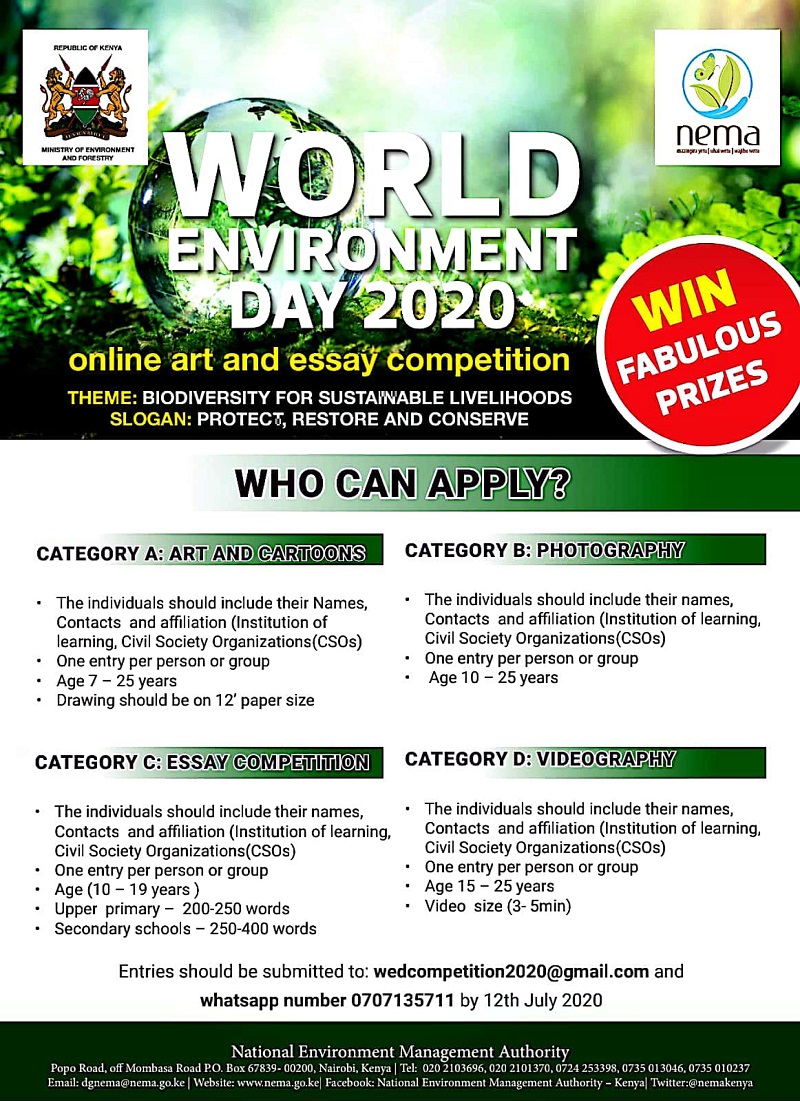 World Environment Day 2020
This year, the global commemorations was held in Colombia who will host the celebrations in partnership with Germany. The theme this year will focus on biodiversity. In Kenya, the National steering Committee has domesticated the theme as "Biodiversity for Sustainable Livelihoods" with the slogan, "protect, restore and conserve" as a rallying call for the country to join the global community in WED celebrations and also the decade for Ecosystem Restoration (2021 – 2030).
1.2 POST 2020 (2021 2030) UN Decade on Ecosystem Restoration (2021-2030)
This year's theme and celebrations are significant in understanding the progress made as regards public awareness and understanding of biodiversity and its values through evaluation of achievements made as regards the 20 Global Aichi Biodiversity Targets formulated under the 2011-2020 Strategic Plan for Biodiversity and grouped under five goals including: addressing the underlying causes of biodiversity loss by mainstreaming biodiversity across governments and society; reducing direct pressures on biodiversity while promoting sustainable use; improving the status of biodiversity by safeguarding ecosystems, species and genetic diversity and enhancing implementation through participatory planning, knowledge management and capacity-building.
Further, the WED 2020 platform is important in rallying support and raising awareness towards the upcoming UN decade on Ecosystem Restoration set to start in 2021 to 2030. A new framework - Post-2020 Global Biodiversity Framework - will be considered and adopted by the 196 Parties to the Convention on Biological Diversity (CBD) at the 2020 UN Biodiversity Conference (CBD COP15), scheduled to take place this year in Kunming, China. This will be critical as nations will make commitments to preserving and restoring biodiversity,
2.0 Venue of National WED Event
This year, Turkana County has been selected to host the National WED event. The selection was informed by the theme this year and the need to create awareness on unique and diverse Biodiversity hosted by different counties in the country. Hosting the WED in Turkana County will therefore present an opportunity for the County to show the world the unique topography and the diverse biodiversity in the County as well as the need to restore and conserve these unique ecosystems.
2.1 Justification of Venue
Turkana County just like all other Counties in Kenya is experiencing rapid population increase and urbanization which in turn is escalating threats to the environment, while putting pressure on available resources. Turkana County's tree cover is estimated at 4.06% (Turkana County Resource Maps, 2016) against the minimum National requirement of 10%. This calls for timely planning and implementation of activities aimed at afforestation and reforestation. Quality and quantity of water is essential in promoting proper sanitation and sustenance of county residents and their agro pastoral practices. The Lotikippi aquifer and others have been minimally explored with most rivers being seasonal or suffering extreme water volume reduction especially during prolonged droughts. Decline of water levels in Lake Turkana has also been experienced in recent years attributed to construction of Gibe III dam located in Ethiopia. The majority of income in Turkana County is from livestock keeping (67%) followed by charcoal burning, petty trade, handicrafts, crop farming and fishing.
Environmental Challenges in Turkana County
Key environmental challenges in Turkana County include solid and liquid waste management, water pollution, air pollution, prevalence of plastics, non- rehabilitation of quarries and mining sites, invasion of Prosopis juliflora, loss of biodiversity, soil erosion arising from illegal logging particularly in Loima forest and from overgrazing, as well as vibrations from mining activities and, oil and gas exploration and exploitation. In addition, Kenyan government data has indicated a trend of rising average temperatures in Turkana County. The minimum and maximum air temperatures in Turkana County have increased by between 2°C and 3°C between 1967 and 2012 (Human Rights Watch 2015).
Increase in temperatures result in increased levels of evaporation and evapotranspiration that negatively impact water availability and plant growth. Precipitation patterns have also changed with the long rainy season becoming shorter and drier, and the short rainy season becoming longer and wetter, affecting the ability of pasture to grow effectively. Average annual precipitation in the County is approximately 250 mm. Turkana County is subject to the impacts of climate change, contributed by land degradation, livestock keeping, deforestation, and burning of fossil fuels, among others. Land degradation in Turkana County is estimated at 50% of the County's total area, and has a huge negative impact to the County's economy as it threatens food production, productivity of grazing land, water supply as well as energy security. It also exacerbates the effects of climate change thereby threatening livelihoods.
The choice of Turkana County as a host for WED 2020 will therefore bring these issues to the fore and create awareness on the need to restore and conserve the county's biodiversity. The celebration will focus the attention on the necessary interventions for the County and Kenya.
3.0 WED 2020 Build Up Events
Various build up activities will be conducted at both national and county levels prior to the actual WED events. The main aim of the build up events is to enhance awareness and publicity for WED events and the environment agenda in general. The activities also provide a platform for educating the public on various aspects of the environment. It also gives the public and stakeholders a chance to participate and give back to nature in different ways which creates a positive attitude and influences behavioral change towards the environment.
This year, some of the proposed build up activities are as highlighted below;
Public forum
Engagement with the Herbal Society of Kenya (HSK)
Webinar
Tree planting programmes
TV and radio Talk shows
Digital WED competition
TV documentary
Various Partners through the National Steering Committee (NSC) are collaborating with NEMA in preparations for this year's National WED Event. A Local Planning Committee spearheaded by the County Government of Turkana in collaboration with the Regional Director of Environment – North Rift Region (NEMA) and the County Director of Environment – Turkana (NEMA) are working hard to ensure this year's WED Event is a success.